Compostable Garment Packaging
Circule™ Packaging Solutions, Customized for your brand.
Circule™ garment and apparel packaging integrates seamlessly into the circular economy, and are the perfect fit for brands focused on circularity, sustainability, and zero-waste.  Our biobased and 100% compostable formulations replace conventional plastics in your packaging and help you meet your sustainability and circularity goals!
Biobased Feedstocks.
Circule™ packaging is manufactured using natural, sustainable feedstocks allowing you to reduce your carbon footprint.
Easily Scan Barcodes.
Circule™ transparent film allows for tags and barcodes to be easily and accurately scanned while inside of packaging.
Unrivaled UV Protection.
Protect your products from damaging UV rays with Circule™ packaging.
Certified Compostable.
All Circule™ packaging is certified compostable as per international standards (ISO 17088, ASTM D6400, EN 13432).
RSL Compliant.
Many businesses create Restricted Substances Lists (RSL) for products and packaging.  We will work with you to ensure compliance in regards to your RSL restrictions.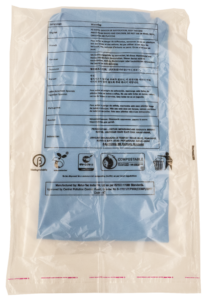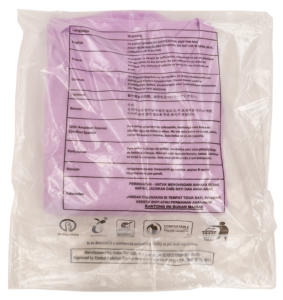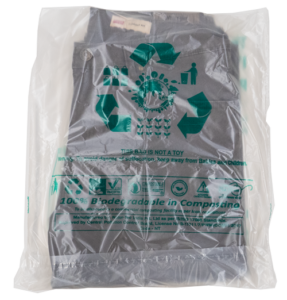 Compostable Garment and Apparel Packaging,
Designed With Your Success In Mind
Made from sustainable biobased materials Circule™ packaging incorporates sustainability into your brand from start to finish. Choose from folded sealing or adhesive seals, and a wide range of sizes made to fit any type of apparel.  From shoes to collared shirts, Circule™ has a customizable solution for you.  By using compostable plastics, carbon is returned to nature via the process of composting.  Circule™ packaging will fully biodegrade in 180 days or less in an industrial composting facility, and helps balance the rates of carbon fixation and carbon release.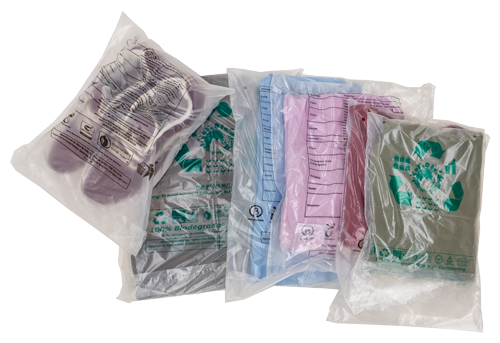 Circule™ Garment and Apparel Packaging
At Circule™, we provide our clients with innovative and sustainable packaging solutions.  All of our packaging is certified compostable and can be customized to your brand!  Customize ink colors and add your design, branding, and messaging to enhance your sustainability efforts.
Ink Colors
Go Green! And show off your brand's unique designs and messaging.  Most clients choose to use dark green or black ink, or a combination of both, but additional colors are available.  Get in touch with us to learn more about custom color offerings.
Print Design
Customize your circular packaging solutions with your brand's logo, tagline, messaging, and more – or utilize our stock print design.  All designs feature certification logos and a "COMPOSTABLE" statement.
Sustainable Feedstocks
Our biobased formulations are made from plant based renewable resources and use less material than traditional packaging.  Because of this, our clients reduce their carbon footprint and generate less waste.
Closure Types
Choose from: pillow style closure, adhesive closure, hanger seal, or bottom gusset to suit your products.
Functional Packaging Solutions
At Circule™, we have the ability to create functional packaging solutions specific to your needs.  Whether you need UV protection, highly transparent film, or other needs, our team can develop a solution just for you.
Extended Shelf Life
All Circule® products offer a 12 month shelf life. Guaranteed.
S

u

s

t

a

i

n

a

b

l

e

P

a

c

k

a

g

i

n

g

.

L

e

t

'

s

T

a

l

k

A

b

o

u

t

I

t

.
Our team is here to ensure your success!